International Women's Month, which occurs annually in March, has spread across the world, resulting in a variety of traditions in different countries.
The United States
International Women's Month has been observed in the United States since 1987. The first similar celebration, which lasted a week, took place in Sonoma County, California, in 1978. A school in the county organized presentations, a parade, and an essay contest for the whole county. Within just a few years, the tradition spread across the United States. In 1980, President Jimmy Carter established the week of March 8 as National Women's History Week. Then, in 1987, the National Women's History Project advocated to expand the week to the entire month of March, and Congress approved.
Each year, schools across the country give presentations and organize other celebrations of women's history. Additionally, on International Women's Day on March 8, the President issues an official statement to honor the history of American women. You can view President Joe Biden's 2021 International Women's Day speech here, at which he nominated two women to be four-star generals.
The United Kingdom
Similar to the US, the UK honors International Women's Month with presentations and other events for raising awareness on the history and rights of women. In 2019, British fashion company Net-A-Porter issued a limited edition collection of feminine T-shirts. The designs were made by females, and 100% of the profits went to the charity Women for Women International.
Russia
Women's Day in Russia dates back to 1913, although it did not become an official holiday until 1965. In 1917, women organized demonstrations, advocated for women's suffrage, and served a key role in the Russian Revolution. Today, Women's Day in Russia is similar to Valentine's Day or Mother's Day, as people buy flowers and other gifts for special women in their lives.
Italy
On International Women's Day in Italy, a major tradition is gifting yellow mimosa blossom flowers. People honor the women in their lives by gifting these flowers, which symbolize female strength. The flowers are sold on almost every street. Additionally, a cake is made and decorated to look like flowers. The cake consists of a citrus liqueur, sponge cake, cream, and cubes of pastry to mimic the look of the flowers.
Spain
Starting in 2018 on International Women's Day, millions of Spanish female workers across the country participated in 24-hour strikes against the gender wage gap and sexual discrimination in the workplace. Participants avoided spending money on that day, as well as refused to do any domestic chores.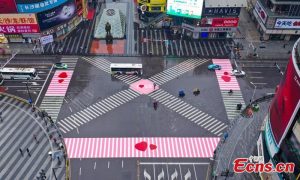 China
Women's Day in China originated in 1922 and became an official holiday in 1949. Many companies have a half-day of work for their female employees on International Women's Day. Other than that, Women's Day in China has become more of a celebration of women's beauty and contributions to their families, rather than a movement toward equality. In 2015, a group of women was arrested for planning a protest against sexual harassment. This day has become quite commercialized, like Valentine's Day. People buy gifts for special women in their lives, and many zebra crossings are painted pink with red hearts.
Germany
International Women's Month is not widely celebrated in Germany. In 2019, Berlin's parliament established International Women's Day as a public holiday. Workers in Germany's capital receive the day off; however, it is not celebrated nationwide.
Armenia
In Armenia, Women's Month is celebrated from International Women's Day, which they call Day of Protection of Your Rights, on March 8 until their Motherhood and Beauty Day on April 7. On International Women's Day, the streets are decorated with balloons, commonly in the shape of an "8," since it is celebrated on March 8. Additionally, many people buy flowers and public events are held.